About
Custom Framing Made Simple.  How it works . . .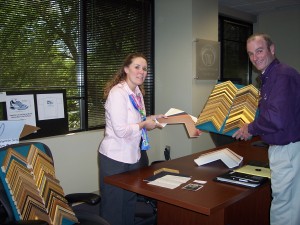 The absolute best place to design your framing treatment is in the actual location where it will be displayed.  The only way to do this is if we come to you.  That way you can select the frame that will compliment your art and the décor such as wall color, drapes, furniture, and carpeting.
An important yet overlooked factor is lighting.  By designing the framing treatment in the area where the art will be displayed you are surrounded by the natural light of your room.  The florescent light found in most frame shops can alter colors but under your natural light you will see the true colors.
After materials have been chosen, we will present you with a mutually agreeable price.  We then take the piece back to our studio to be framed.  Finally, we return with the completed item within 10 days and expertly install it for you.
At Custom Framing Made Simple, our mission is to remove the hassle, stress and burden of having your memories and investments properly presented and preserved.
Custom Framing Made Simple  is a Small Woman and Minority (S.W.A.M.) owned business and a certified Micro Business by the Virginia Department of Small Business and Supplier Diversity (VSBSD)